Many men are slowly being convinced by yoga. This activity, which positively affects the body and spirit, helps to focus. We suggest why it is worth practicing yoga. Check it!
In Poland yoga is mostly associated with women. Not everyone knows that the first yogis were men. Practicing asanas and controlling breathing increases concentration and at the same time develops muscles of the whole body. They positively influence stretching, thus reducing tension pains. These are just some of the many benefits of yoga!
A brief history of yoga
Yoga is a practice that includes practicing asanas (postures), pranayama (breathing techniques) and meditation. Its tradition dates back to India several thousand years ago. In fact, until the 20th century it was a type of exercise reserved exclusively for men. It was only with the spread of yoga in the United States and Europe that women began to use it
Practicing a variety of asanas helps increase strength and build muscle tissue while increasing overall fitness and flexibility. One of the most important benefits is the soothing effect on our mind. This is the reason why people who are busy and face a lot of stress are so eager to start practicing yoga, because they can see its real effects.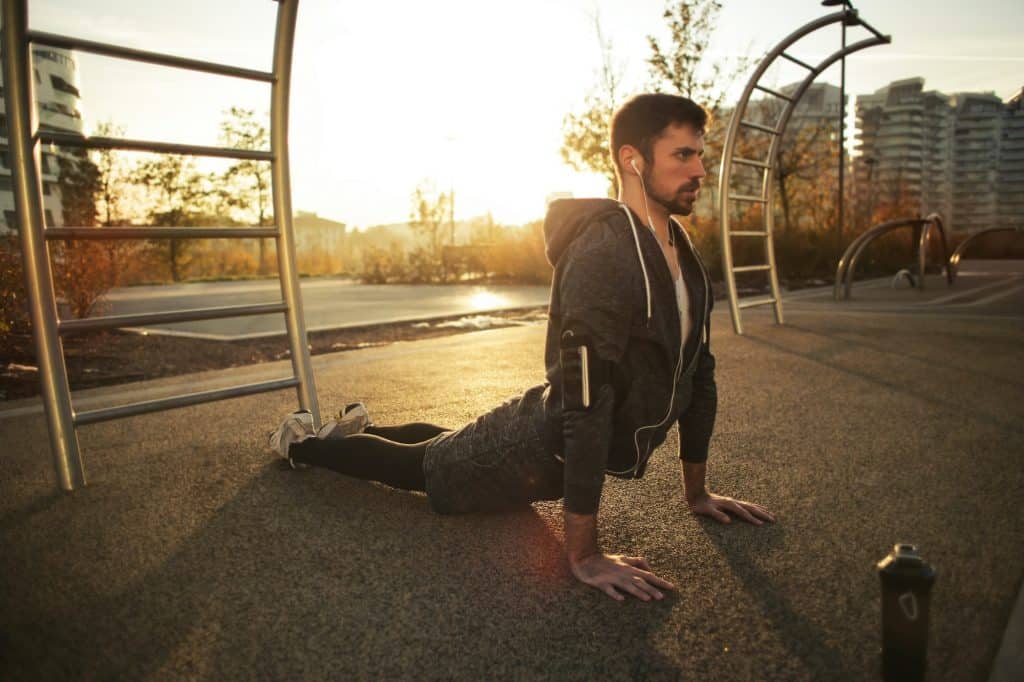 4 reasons why you should start practicing yoga
To begin with, it's worth noting that the fad for practicing yoga has produced quite a few scientific studies in medicine, psychology, and physiotherapy that confirm the beneficial effects of exercise on overall health and feelings of happiness. Let's take a closer look at the benefits that come with regular practice.
Increased mobility of movement
The vast majority of men focus on strength training, possibly augmenting it with endurance exercises. Running, weightlifting, and cycling are effective in building muscle tissue. However, by properly stretching the fascia and eliminating tension, we will quickly reach our maximum potential.
Yoga allows you to increase your range of motion. It strengthens the joints and is in itself a great mobility training. After just a few practice sessions you will discover that you are able to perform movements you have never dreamed of before!
Body awareness
Awareness of the body and its capabilities allows you to avoid injury. Practicing asanas builds proprioception – the knowledge of where your body is in space. Yoga improves concentration and sharpens the senses. This is extremely important outside the training room as well, as it reduces the risk of unconscious falls
Strengthening deep muscles
During traditional strength training, it is extremely difficult to reach the deep muscles. By doing so, you unevenly build up the tissues, which increases the risk of illness and injury.
Yoga effectively strengthens the deep muscles that we overlook in the gym. As a result, you will see much faster and greater results as your body will develop with balance
Stronger heart
Breathwork and meditation practice are great for lowering blood pressure and cortisol levels, which positively affects the function and health of the entire cardiovascular system. Worth a try if you lead a stressful lifestyle
Summary
Nowadays in professional yoga schools everyone can find a style that suits their individual needs
Ashtanga is definitely more forceful and dynamic, while Hatha is characterized by a calmer pace and longer endurance in particular asanas. Iyengar's yoga takes care of the correct positioning of the body in each of the postures. This style is recommended for people who suffer from back pain or have a sedentary work style
An interesting proposal is also Hot Yoga, in which classes are conducted in rooms with a temperature of about 40 degrees Celsius. This allows you to burn fat faster and cleanse your body. Regular practice of yoga will certainly have a positive effect on the body and mind, so it is worth giving this activity a chance!
Read also 4 POINTS TO KEEP IN MIND WHEN CHOOSING A PERSONAL TRAINER FOR YOURSELF
Main photo: cottonro/ pexels.com