The fact that alcohol is harmful is known to all of us. But do you know exactly what it does to the human body? Find out by reading this article and learn about alcohol-free drink recipes!
Even a small dose of alcohol affects human behavior. Alcohol has a harmful effect on the nervous system and reduces its efficiency. As the amount of alcohol consumed increases, the ability to make judgments, think precisely and be critical begins to disappear. In addition, visual and auditory reaction disorders appear.
So is it worth it? We will leave the answer to this question to our readers. And we will provide proven recipes for delicious zero percent drinks!
Alcohol and its impact on the body and health
The effect of alcohol on the body depends on many factors, such as body weight, gender, health condition, type of alcohol and the way it is consumed. In excessive quantities, alcohol leads to very serious health consequences, e.g. damage to the liver, brain and heart.
Whether in the form of wine, beer or vodka, it also increases the likelihood of diseases such as pancreatic, colorectal, oral and throat cancer. Alcohol consumption has a negative impact on the nervous system, interfering with logical reasoning, precise thinking and good judgment. Besides, alcohol also affects the cardiovascular, digestive and respiratory systems.
What instead of alcoholic drinks?
It is hard to imagine a New Year's Eve party without colorful drinks. Anyway not only it, but any other. People who don't want or can't drink alcohol are often treated neglectfully by organizers of home parties and the only thing they are offered to drink is water or possibly orange juice. However, it doesn't have to be this way! There are plenty of recipes for non-alcoholic, colorful and delicious drinks that you can easily and quickly make yourself.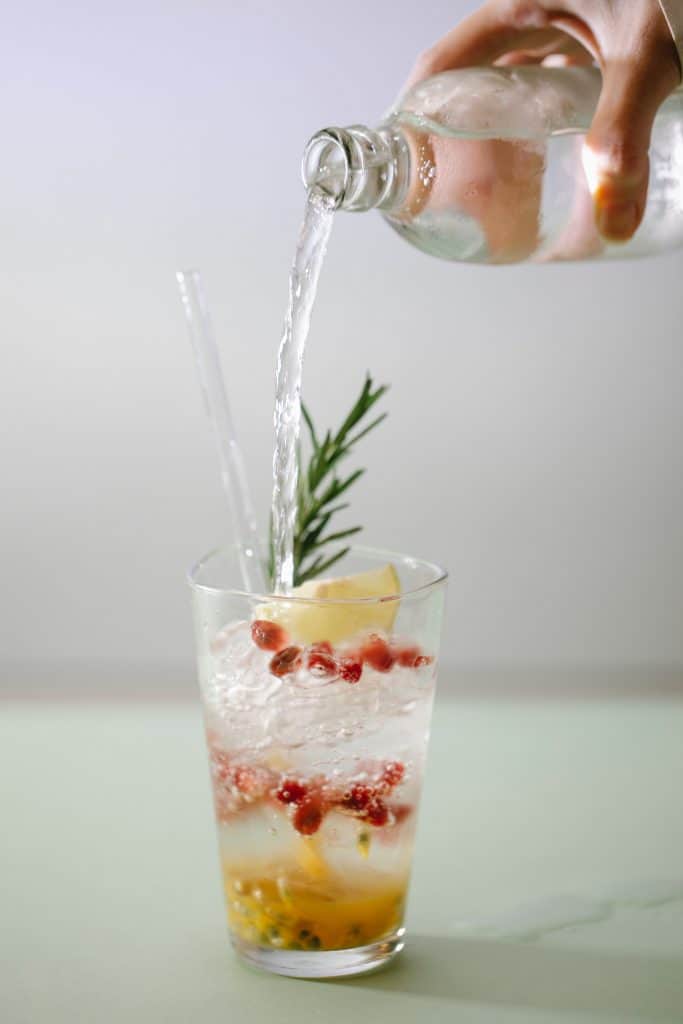 Mojito virgin zero percent
This alcohol-free mojito will work for all parties and will be enjoyed by adults and kids alike.
Ingredients:
sparkling mineral water + Sprite,
½ lime,
2 teaspoons cane sugar,
3 sprigs of mint,
1 slice of lemon,
crushed ice.
How to prepare
In a glass, place half a lime and the cane sugar. Crush them with a bartender's pestle and add crushed ice and crushed mint. Then add mineral water and Sprite (in any proportion) and garnish with a slice of lemon.
Pina Colada zero percent
This classic drink is loved by everyone. A great option for summer parties that will make you feel like you're in the hot tropics.
Ingredients:
pineapple juice (40 ml),
coconut syrup (40 ml),
pineapple slice.
How to prepare
Mix both liquid ingredients in a shaker to create a fine foam. Then fill a tall glass halfway with crushed ice and pour the resulting non-alcoholic cocktail. Garnish the rim of the glass with a slice of pineapple
Virgin Sex on the beach
This popular drink can taste great without vodka and peach schnapps. Plus, it's simple and quick to prepare!
Ingredients:
orange juice (150 ml),
cranberry juice (150 ml),
peach syrup (40 ml),
ice cubes,
orange slice.
How to prepare
To prepare this drink you will need a shaker. Just mix all the ingredients in it and then pour the cocktail into a long glass and add ice cubes. You can decorate the rim of the glass with an orange slice.
Bloody Mary zero percent
This cocktail will be perfect for Halloween, but not only. Tomato juice is healthy because it contains lycopene and potassium, and Tabasco effectively cranks up your metabolism.
Ingredients:
tomato juice (300 ml),
lemon juice (50 ml),
a teaspoon of Worcestershire sauce,
a few drops of Tabasco,
celery stalk,
pinch of salt and pepper,
ice cubes.
How to prepare
First mix the tomato juice with lemon juice and a teaspoon of Worcestershire sauce. Then add Tabasco and a pinch of salt and pepper. Transfer the drink to a tall glass, add ice cubes and celery to garnish.
Read also DO YOU WANT TO CONVERT TO VEGETARIANISM? HERE ARE 5 MYTHS YOU SHOULDN'T BELIEVE
Main photo: Maria Orlova/ pexels.com