Home office is a term that until recently was at least exotic to most of us. Daily habits and rituals directed us in only one direction – to work. The transition to remote work has brought chaos to family and professional life, changed the rhythm of the day, disrupted priorities. Now everyone, on their own, is trying to build new rules and create an environment in which they will feel safe again
What is the dress code for a home office?
Do you really think this question is trivial? If it were, we wouldn't be seeing dozens of slip-ups on social media – funny and pathetic at the same time – and we wouldn't have doubts ourselves. When the pandemic began, online stores were full of offers of home clothes, soft and comfortable, in other words: offers of tracksuits, sometimes in a slightly more refined version. But is a tracksuit, even a designer one, really the best outfit for a home office job?
Working from home, at your own desk or table, will not, of course, force you to put on a suit. A more casual, comfortable outfit becomes the natural choice. But it doesn't mean that we have to work at home in clothes that are no longer suitable for work. Unfortunately, the habit of putting worn-out pants, stretched sweaters and stained t-shirts on the shelf to be worn at home is the bane of stylists and very often torture for the rest of the household
An unexpected video conference
Home office does not mean working in the comfort of your home, at least not exclusively. This kind of professional activity is also based on communication with the outside world through Internet connections and all kinds of instant messengers. Do you perform the scope of work imposed by your boss at home? You have to reckon with the fact that at any moment he may ask you to meet on the links. The sight of you in a stretched sweater or a blouse that remembers vacations from a few years ago will stay in his memory for a long time. That is why the first rule governing the dress code in the home office should be neatness – comfort is a secondary consideration. In the case of a video conference with your superior, it is best to simply wear the outfit that you would wear if the conference took place in the workplace. If your boss has not previously required a suit and tie, when conferencing from home, keep to that custom, but choose your clothes carefully and wear your shoes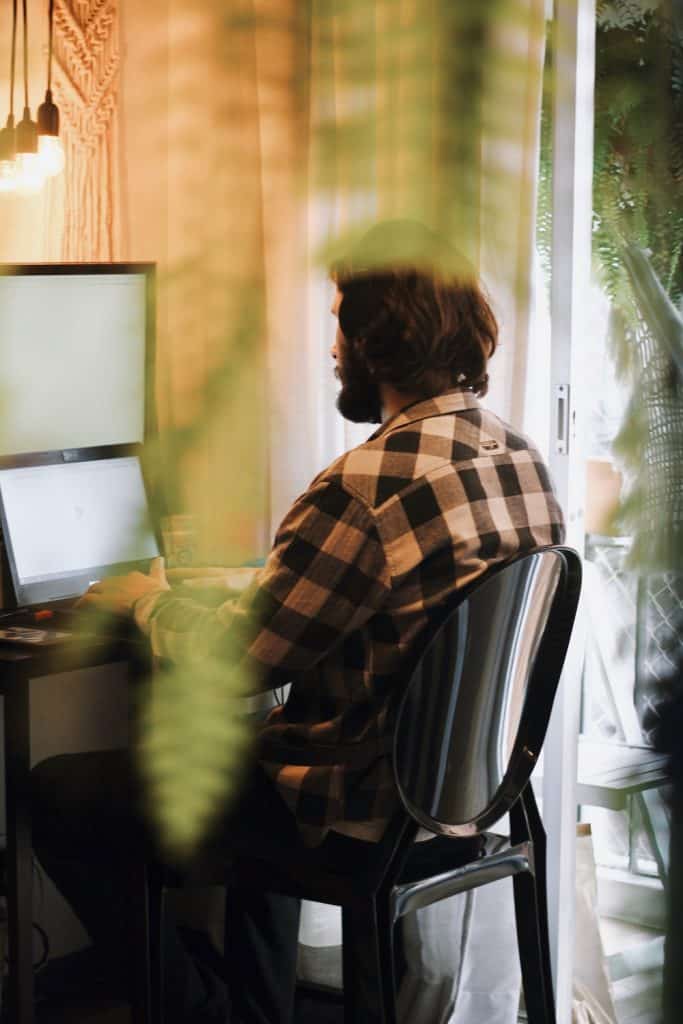 Does maintaining a professional dress code matter?
I don't think anyone doubts anymore that clothes matter, and it matters psychologically and even therapeutically. Properly chosen outfit boosts self-confidence, emboldens, motivates. The same functions are fulfilled by the outfit during the remote work. It is a kind of regime which, together with the rituals of everyday life, motivates to work. See for yourself how it works! For three days in a week, work from morning to afternoon in anything: sweatpants, underwear, or even pajamas. The next three days start with a formal outfit, the same as you would wear to the office. You will definitely notice a difference, especially in motivation and productivity. Formal attire helps you disconnect from your home environment and work at top speed. Home attire promotes interruptions, flight of thought, and distraction. If you set high expectations and exorbitant goals for yourself then appropriate attire, including at home, will help you achieve them
Behind the back of video conferences
The period of pandemonium and communication via the Internet has drawn attention to one more detail of unannounced video conferences. During them, not only the outfit matters, but also the view behind the back. Specialists recommend careful selection of the background, so that the interlocutor, and even more so the superior, sees only what we want to show him. When preparing for a videoconference, set up your computer in such a way as to perfectly control the background for your character. Let it be a bookcase full of books, a modern painting, a wall map or a carefully selected piece of wall. Make sure there are no empty food wrappers, underwear or children's toys in plain sight. Show that your workspace is comfortable, clean, and aesthetically pleasing
Read also 5 TRENDS FOR FALL-WINTER 2020/21 THAT EVERY STYLISH MAN SHOULD KNOW
Main Photo: Štefan Štefančík/ unsplash.com